REXON RHP-530 nav-com handheld tranceiver with VOR pitch 8.33 Khz with optional Bluetooth function
The Portable Transceiver Rexon RHP-530 NAV / COM offers many features.

A VHF on air-band whose functions are common sense for pilots such as:
Control

of

the start frequency

,

Dual Standby

(follow

a frequency

just

being

tuned

to

a different frequency

)

Instant

storage of the

active input frequency

Nav

Scan (

scan

tape

Nav

to detect

usable

VOR

signals).
The RHP-530 NAV / COM also provides the function DVOR and CDI.
This is currently the "emergency" transceiver in the aviation band 8.33 Mhz
THE LEAST EXPENSIVE of the MARKET.
The Rexon RHP-530 is the third generation air band radio and comes with all the advanced features, functions and capablity you would expect from a top quality professional grade airband radio.
It compares with other brands such as ICOM, Vertex (if you find in France ...)
However, consider this receiver transmitter as an emergency VHF with VOR.
The Rexon RHP-530 air band transceiver will convince you of its functionality. It is dust- and splashproof and complies with the MIL STD 810 C/D/E/F. In addition the device is tested according to ETSI EN 300676-2. ETSI means European Telecommunications Standards Institute, which is in charge of establishing and controlling the corresponding European standards.
IT CAN BE SOLD IN ALL COUNTRIES IN EUROPE TO BE INSTALLED IN A COCKPIT (EXCEPT FRANCE)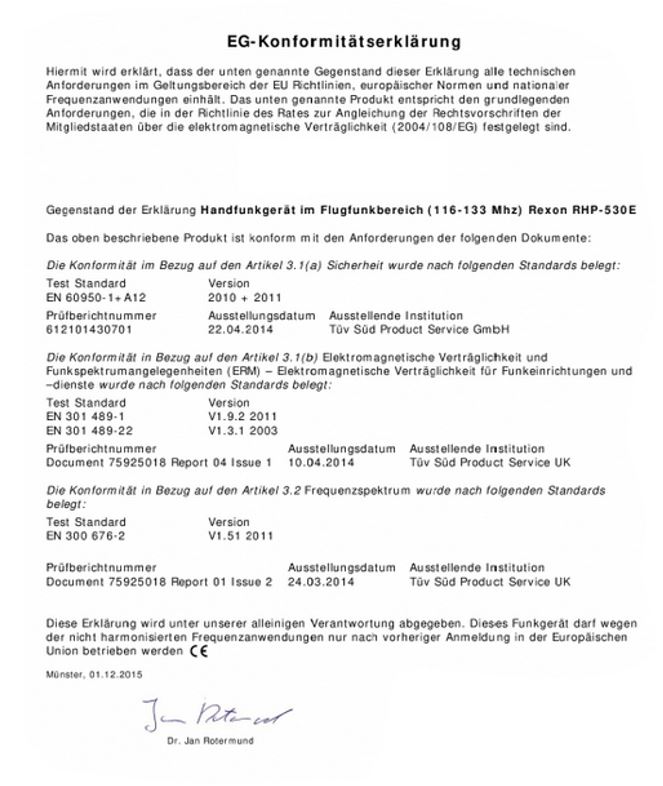 CAUTION: (it can not be registered on a French LSA aircraft (Licence de Station d'Aéronef) - in France)
This radio can be configurate as an intercom if you buy the 2 headsets adapter with PTT
The REXON RHP-530 is the perfect partner for the pilot of « UAV » (Unmanned Air Vehicle) ou « UAS » (Unmanned Air System) « RPAS » (Remotely Piloted Aircraft System) also called drone. It will allow to stay in contact with tower, or controllers and aircraft in specific dangerous zone.
But it is also suitable :
For ground staff: Ramp Agents, Engine Drivers, Baggage handlers, Airline Catering agents, Maintenance agents, Handling agents, Handling Company agents working on the tarmac
Aerodrome managers and professionals, AFIS agents or emergency radio for traffic controllers.
This transceiver is waterproof. IPX4
It complies with ETSI EN 300676 and FCC CFR47 parts 2 and 87 (Federal Communication Commission)., Australian and New Zeland AS/NZS 4583.
Aerodiscount found it and imported it especially for you. We are the importer for France of this product.

The unit has:
- A keyboard with 16 keys,
- 100 programmable memories,
- A backlit display,
- Of a power output of 5 watts,
- The Scan function,
- A hot key access to the 121,5Mhz frequency,
- NOAA weather channels (usable only in the USA)
- ...
KEY FEATURES
2.

VOR

NAVIGATION

WITH

200

channels

NAV (If OPTION)
7.

Direct emergency

frequency

121.5 MHz

REMINDER
9.

CDI

.

SCANNING

TAPES

COM

and NAV
11.

FREQUENCY

SELECTION

ACTIVE

&

STANDBY

TOUCH
(manufacturer data)
GENERAL
KEY FEATURES:

5W (REP) OUTPUT POWER

2 VOR NAVIGATION WITH CDI (IF OPTION)

760 COM CHANELS & 200 NAV CHANNELS

10 WEATHER CHANNELS 5. 100 MEMORY CHANNELS

121.5KHz EMERGENCY FREQUENCY RECALL

SEMI-DUPLEX OPERATION

SCANNING OF COM & NAV BANDS

DUAL WATCH FUNCTION

ONE TOUCH SELECTION OF ACTIVE & STANDBY FREQUENCY

SIDE TONE FUNCTION

LCD BACK LIGHT

FREQUENCY :
TX COMMUNICATION 118.000 to 136_975KHz

RX NAVIGATION 108.000 to 117.975KHz

COMMUNICATION 118.000 to 136.975KHz

WEATHER 161.650 to 163.275KHz

MODULATION TYPE AM(6K00A3E) FM(16KOG3E)

ANTENNA IMPMANCE 50 OHM

TUNING STEP 25 KHz 8.33 KHz

MEMORY CHANNEL 100

OPERATIING TEMPERATURE -10°C - +5OC

FREQUENCY STABILITY ±1Oppm

TRANSMITTER :

RECEIVER :
CIRCUIT TYPE 'DOUBLE CONVERSION SUPERHETERODYNE

INTERMEDIATE FREQUENCY 1st 21.7 KHz 2nd 450 KHz

SENSITIVITY 1.0uV for 6dB S/N

SELECTIVITY 6.dB: >12KHz, 70dB < 25KHz

SPURIOUS EMISSION -57dBm

AF OUTPUT POWER 0.6W .80 OHM

CURRENT SQUELCHED: 55mA, MAX. OUTPUT POWER: 400mA
REXON RHP-530 includes: Air Band Handheld Transceiver, Belt Clip, Antenna, BP-17L: 1700mAh Li-Polymer Battery, RC-28L double aviation jack headset adapter, Fast desk charger, English User's Manual