ANR HEADSET CLEARSTREAM® with fully closed earcups light WEIGHT (207gr) and performanCE
(ANR = Active Noise Reduction - Active Noise Reduction)
A MODERN LOOK!
A REALLY GOOD PERFORMANCE PRICE RATIO,
The CLEARSTREAM®, has an excellent Quality Price Ratio
SAME DYNAMIC ANR AS THE QUIETLIGHT
The CLEARSTREAM® is a NEW GENERATION helmet.
Based on new patents (2 Patents) filed by our supplier, it uses Hybrid Technology which miniaturizes the processor, thus using less energy. This headset requires the use of 2 AA batteries. which can be installed in a satellite from where you can adjust the volume. you can also connect a telephone or an MP3 source directly.
The control satellite is lightweight and does not penalize the weight of the assembly.
Our supplier is a pioneer in ANR technology (Active Noise Reduction), it is a point of pride to evolve technologically and develop innovation.
His R&D office has been working on the ANR analysis algorithm, which instead of being static is now dynamic. Digital Analysis adapts to the type of noise in the environment.
This technology is mainly used in the HIFI world and is used on BOSE® brand products, which allows you to walk around in various environments in order to have a more pleasant listening experience adapted to the ambient noise that changes according to where you are located. Indeed, a station hall does not have the same background noise as a busy street. The technology of this ANR will therefore make it possible to analyse the frequencies present and will adapt and focus its attenuation on this analysis.
ANR TECHNOLOGY
ANR technology is now at the forefront of innovation by integrating very high quality wearing and listening comfort. Quietlight was criticized for the small size of its earpieces and for the passive attenuation considered not efficient enough for this type of product, with the Clear Stream now this point is greatly improved.

- The hoop is adjustable and adjustable to the size of the head but in order to compete in the lightweight helmet category, it is still a not very wide hoop. The tightening is also very satisfactory for a helmet in this price range.
- The earcups offer waterproofness and comfort. Made of leather protein, these earpieces rotate on 2 axes and encompass the ears well so as not to compress them.
- The microphone boom is attached to a shortened flexible strand, which contributes to the lightness of the Clear Stream headset.
On the side, a female jack allows you to connect a music source or your phone. This is an AUX audio input for your MP3 devices. This input only allows listening and is not bi-directional for a telephone conversation. The cord then ends with the two general aviation jacks earphone PJ-068 (6.35 mm) and microphone type PJ-055 (5.2 mm)

An unequalled flying experience and pleasure due in particular to its very low weight compared to other headsets. However, quality is present with the proven passive technology of a headset with closed earpieces. The manufacturer's argument is the shape of the helmet studied for a better reflection of external sound waves, unlike a satellite dish for example.
The choices made on the CLEARSTREAM® headset reflect a thorough knowledge of the use and a careful listening to the feedback from its customers. Aerodiscount has contributed to this.
Strength in comfort and attenuation efficiency resulting from cutting-edge technology.
You will try it and you will be conquered.
Aerodiscount offers it to you
an interesting discount price.

When the ANR is switched on, the noise cancellation is remarkable, it is -23 dB complementary over the entire spectrum audible by the human ear.
A total of ≈ 46dB of attenuation can be found.
This headset compares to the major brands on the market, with a TOTAL attenuation of 46 db
YOU WILL FLY in peace and comfort ,
nevertheless you won't lose contact with the outside environment
TECHNICAL SPECIFICATIONS :
This is a very large active ANR noise reduction function, lightweight and comfortable. Client's feedbacks are all positive.

Pivoting earcups make the headset foldable, to store it flat with a minimum space requirement in the rigid shell provided.

Fine leather looking earpiece, soft and pleasant to wear, not very fragile, with an excellent contact and super comfortable for a long life, allows you to take pleasure in flying all the time.

Use 2 AA batteries, two new batteries can operate for more than 48 hours. They are installed by sliding the trap door that when sliding (opening: An arrow ► shows you the direction of opening (direction of the 2 wires to the single wire on the back of the satellite.))
Following many questions the 3 small holes on the 2 earpieces allow the capture micro analysis of ambient noise for the ANR)
High-quality noise-canceling electret microphone for clear and crisp communication every time
On/Off button on the headset opposite the microphone
Dual volume controls are located on a small satellite control box on the connecting cable to the unit's radio system. They allow you to choose your comfortable listening level for each ear. (both together if you have the satellite switch in Mono position and individually if you are in Stereo).
The toggle switch from one circle to two nested circles is there to switch from MONO to STEREO. Normally in France you should stay on MONO.
MP3/Smartphone/Radio/iPod/iPad Compatible with the included connection cable
It is given as a quality of Hi-Fi sound, you will appreciate it for the music...
Now you can equip this headset with an external Bluetooth module to connect it wirelessly to all your devices. (stereo music, Bluetooth v4.1+EDR, mini-usb charger)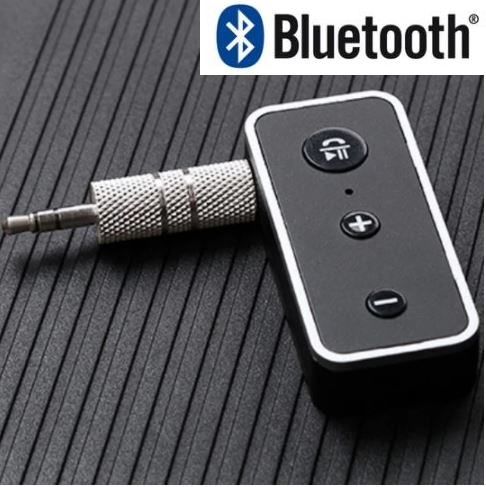 Link :
BT Emission-Reception Adapter Module
NOTE: The module is given to be transmission / reception, but the emission for a phone conversation for example is done through a microphone placed on the module and not through the microphone of the headset. You need to place the dungle close connected to the sattelite close to your mouth.

Bluetooth communication interface on auxiliary audio input
With mono/stereo switch
Professional ANR aviation headsets in the aircraft, while Great ANC headsets for home or travel use.

Comes with a solid bag, space-saving storage and protection case. This will protect your folded headset during storage and transport. It will easily fit into your flight bag. Everything is planned, inside a small storage pocket will allow you not to lose the cords delivered.

With an improved level of comfort that you will appreciate. All this without compromising the audio clarity you expect

The Clear Stream, weighing less than 207 grams, is one of the lightest and most comfortable ANR headsets on the market today.

It has a passive noise attenuation of 22 dB and an active noise attenuation of an additional 24 dB. It is equipped with a high quality Electret Noise Cancelling microphone and high fidelity speakers. It is equipped with comfortable protein leather earpieces with shape memory foam. It is powered by two AA batteries with a battery life of up to 48 hours.
NR Passive Attenuation Rating: -23 db
CAUTION: The Clear-Stream® does not allow you to change the headset side of the microphone boom. Always use left microphone.

NOTE: The ANR of this headset allows it to be used with a hearing aid. There is no feedback created.
The Clear-Stream® complies with environmental regulations and performance standards required for civil aviation headsets.
ANR system :
Powered by 2 AA (LR06) batteries not included.
The Headset can be used with other passive headsets on the intercom.
The new processor adapts to the surrounding noise and the highest frequencies. It allows an Active Noise Reduction of 23 dB in addition to the passive noise
.
Box Content

~ Clear-Stream® headphones

~ An MP3 cable 3.5 / 3.5mm

~ A rigid shell and storage design with inside pocket to store the cords delivered.
OPTION :
~ A Bluetooth dungle with a Mini-USB cable to charge it. (OPTION THAT YOU NEED TO ORDER SEPARATELY)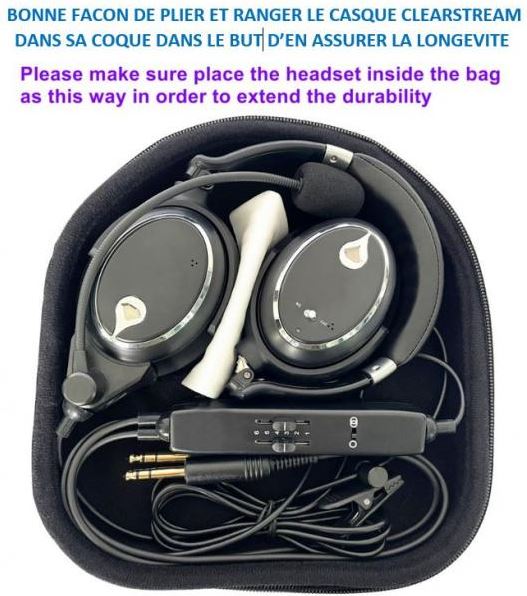 It is recalled that the microphones in our terms and conditions are guaranteed only 3 months.

* All information in this description is based on information provided by the manufacturer.

If you decide to buy this product, remember to PUT SOME BATTERIES before using it for the first time.